News¶
Newsgroups are the only official way of communication of EPITA.
Access¶
Server: news.cri.epita.fr
Port: 563/tcp
Authentication: use your CRI credentials
Connection security: SSL / TLS
Recommanded NNTP clients are the following:
Thunderbird¶
Procedure¶
In the following procedure, the example user is called "Xavier Login", their login is xavier.login and their email address is xavier.login@epita.fr.
To add the NNTP server, go to ☰ > New > Other accounts.
In Name, insert your full name (example: "Xavier Login"). In Email address, insert your EPITA email address (example: xavier.login@epita.fr).
In Newsgroup Server, insert news.cri.epita.fr.
In the folder pane on the left of the main Thunederbird window, right click on the newly added account (called news.cri.epita.fr if you didn't change it) and click on Settings. Under Server Settings, select the correct Connection security : SSL/TLS.
Check the Always request authentification when conneting to this server box.
We also recommend checking the two boxes about checking for new messages as you will get notified when new messages are received on the server.

When prompted for a username and a password, fill in your login (example: xavier.login) and your CRI password. Make sure to check the box to remember the password.
Tips and tricks¶
The following configuration is strongly recommended as it is mandatory to respect the "netiquette" on the News server.
Still under the account settings, add a signature.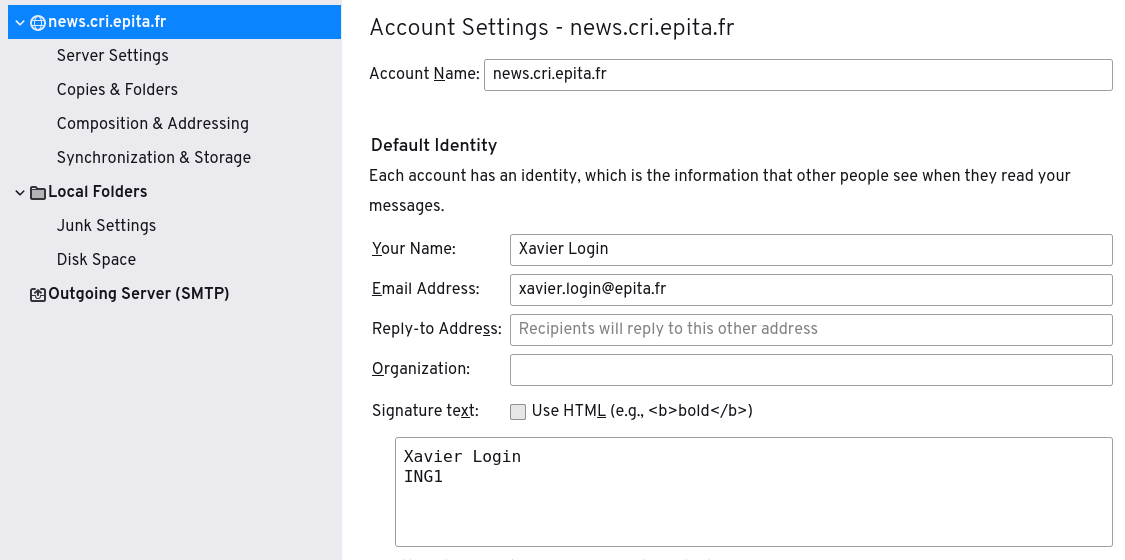 Under Composition & Addressing, make sure the HTML box is unchecked.
Click the Global Composing Preferences... button, then the Send Options... button. In the dialog, make sure the Send messages as plain text if possible is checked, in the menu select Ask me what to do and in Plain Text Domains add *.
Finally, in ☰ > Preferences > General > Config Editor (at the bottom):
Set mailnews.display.disable_format_flowed_support to true
Set mailnews.send_plaintext_flowed to false
Set mail.server.default.abbreviate to false
slrn¶
A tutorial is available here (in french).